स्वस्थस्य स्वास्थ्य रक्षणं,आतुरस्य विकार प्रशमनं।
Radhika Ayurveda : Best ayurvedic wellness center in Noida for panchkarma treatment
Radhika Ayurveda which is the best Ayurvedic Wellness Center in Noida, India and also renowned as the best Kerala Ayurveda Wellness Center works to give you a complete view of health and wellness using the ancient wisdom of Ayurveda. Through personalized treatment and natural therapies, our team of skilled Ayurvedic practitioners is committed to helping you reach optimal health and wellbeing. Since each person is unique, we at Radhika Ayurveda customize our therapies to meet your individual requirements and concerns. We start with a thorough assessment to establish your Ayurvedic body type or dosha, which helps us develop a personalized treatment plan that takes into account your unique health concerns and objectives.
Radhika Ayurveda's Wellness Programmes
I am delighted to extend a warm welcome to you at our Ayurvedic Treatment & Wellness Centre. Our facility was built on the fundamentals of Ayurveda, an ancient holistic healthcare system from India that places an emphasis on maintaining a balance between the mind, body, and spirit for optimum health and wellbeing. We attempt to offer individualised treatments that are tailored to each visitor's particular needs at our facility since we feel that every person has a unique set of health demands. Your objectives, interests and lifestyle will all be taken into account as our highly qualified and experienced practitioners collaborate with you to develop a treatment plan.
Our mission at the Ayurvedic Treatment & Wellness Centre is to use the healing power of Ayurveda to assist you in achieving maximum health and wellbeing. We are committed to offering a calming, loving and friendly environment so you may unwind, revitalise and re- establish contact with your inner self. Thank you for choosing our centre for your wellness journey. We eagerly anticipate the opportunity to serve you and assist you in attaining your health objectives.
ब्रह्मो मुहूर्ते उत्तिष्ठेत स्वस्थो रक्षार्थमायुषः
Radhika Ayurveda's Vision
Our goal at Radhika Ayurveda which is the best Ayurvedic Wellness Center in Noida is to increase awareness of the benefits of Ayurveda's traditional knowledge of health and wellness. We think that ayurveda has the ability to change people's lives and enhance the general wellbeing of people, societies, and the entire planet. In our ideal world, Ayurveda will be acknowledged as a beneficial and efficient healthcare system that can be used in conjunction with modern medicine. We work to promote evidence-based practices that are firmly established in the long history of Ayurveda in order to fill the gap between traditional Ayurvedic wisdom and modern science. Through education and individualized care, Radhika Ayurveda aims to enable people to take control of their own health and wellness. We are dedicated to assisting people on their quest for maximum health and wellbeing because we think that everyone has the capacity to do so.
Healthy Packages Club Membership Card
Indulge in our thoughtfully curated Ayurvedic treatment & Wellness packages to restore your body, mind, and soul.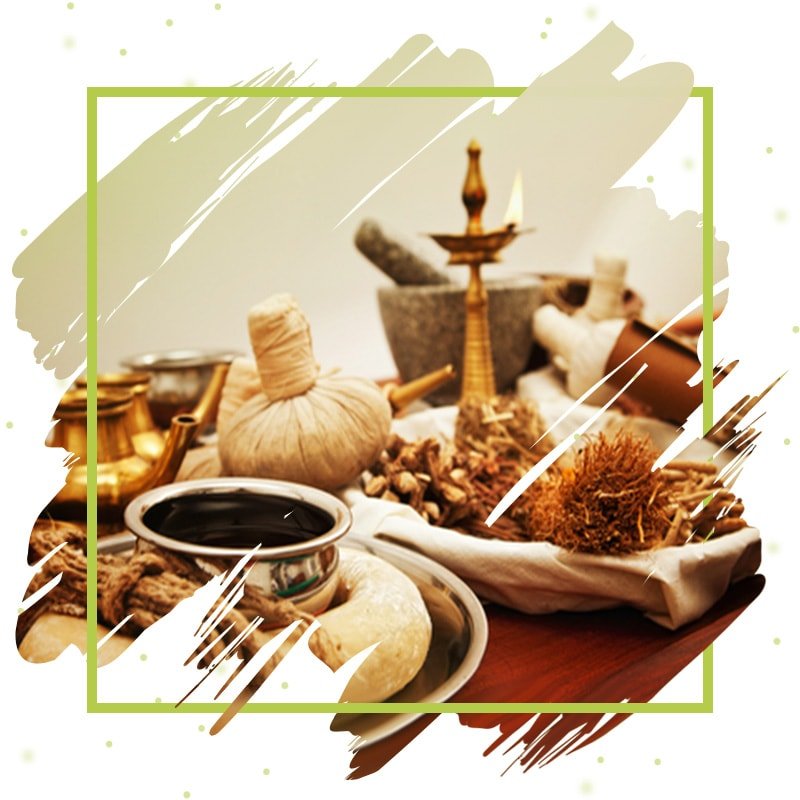 शरीरेन्द्रिय सत्वात्मा संयोगो।
Why Ayurveda
Ayurveda has been used for at least 5,000 years in India, although it has only recently gained popularity in the west as a type of complementary medicine. Ayurvedic medicine is one of the oldest systems of medicine and is based on a number of holy Indian Sanskrit writings that were written between 1500 BC and 400 AD.

Ayurveda emphasizes the whole individual, including their physical, mental and emotional well-being, in its approach to health and wellness. This method acknowledges that a person's health can be affected by a variety of things such as diet, lifestyle, emotions, and environment. Ayurvedic therapies are customized to your distinct dosha, which is based on your physical and emotional characteristics. This individualized approach may result in more successful therapies and improved health results.
Authentic and Reliable Ayurveda Treatments in Noida, India
We merely believe in giving everyone the authentic and reliable ayurvedic treatment without any side effects
Radhika Ayurveda Center: Your Gateway to Holistic Wellness
Radhika Ayurveda Centre is a well-known Ayurvedic wellness centre in Noida. We offer a variety of services to help you achieve holistic well-being, along with a commitment to provide authentic Ayurvedic and naturopathy treatments. Our expertise is naturopathy treatment, Panchkarma therapy, and Ayurvedic treatments, all of which are available in our centre. We also ensure that you receive personalised care while experiencing the transformative power of ancient healing practices.
Naturopathy Treatment in Noida:
We believe in promoting natural healing and restoring the body's balance through naturopathy treatment. Our experienced & skilled practitioners use various kinds of therapies such as hydrotherapy, mud therapy, diet therapy, and others, in order to address health issues as well as their root cause. We also customize and personalize treatment plans as per your need, those plans include physical, mental, and emotional aspects to improve your vitality and quality of life, while focusing on your overall well-being
Panchkarma Centre in Noida:
Deep cleansing and rejuvenation of Panchkarma are the two types of therapy that you can experience at the centre. Panchkarma refers to the process of detoxification that helps to cleanse our the toxins of our body, balances doshas as well as restored optimal health. In ordee to facilitate healing and purification, our skilled therapists use various specialized techniques such as Abhyanga (Ayurvedic massage), Shirodhara (oil pouring on the forehead), and Basti (medicated enema).
Ayurvedic Treatment in Noida:
At Radhika Ayurveda Centre, you can learn about the ancient wisdom of Ayurveda. Our expert Ayurvedic practitioners will diagnose your unique body constitution and create a treatment plan that is tailored to your specific needs. Our Ayurvedic treatments aim to restore balance, promote longevity, and alleviate various health conditions naturally, with everything from Ayurvedic massages and herbal remedies to dietary guidance and lifestyle recommendations.
Best Naturopathy Centre in Noida:
We are proud to be known as one of the best naturopathy centres in Noida. Our qualified naturopaths and therapists are dedicated to your health and wellness, providing a nurturing and compassionate environment for your healing journey. Through the principles of naturopathy, we strive to help you achieve optimal health and vitality through our comprehensive approach and emphasis on natural remedies.
Panchkarma Treatment in Noida:
At our centre in Noida, you can experience the profound effects of Panchkarma therapy. Our Panchkarma treatments are meticulously designed to remove toxins, balance energies, and promote deep healing. We facilitate a rejuvenating experience that revitalises the body, mind, and spirit through expert guidance and individualised treatment plans.
We invite you to join us at Radhika Ayurveda Centre on a transformative journey towards holistic wellness. We offer a comprehensive approach to addressing your health concerns and restoring your well-being through Ayurvedic treatments, naturopathy therapies, and Panchkarma treatments.